ENOTA

Helen & Blue Ridge
Area Dining
North Georgia Mountains between Helen, Hiawassee, Blairsville, Young Harris
Restaurant options range from a German meal of schnitzel, sauerbraten, rouladen or wurst with an imported beer or wine to a traditional southern country meal of grits, country ham, home made biscuits and gravy. There are also plenty of American style steaks, seafood, deli sandwiches, hot dogs and hamburgers as well as homemade fudge, candies and funnel cakes.
Helen Georgia
Hungry? No problem. Helen restaurants stand at the ready to ply you with all kinds of good eats, no matter your taste or preference. If you like food (and who doesn't?), prepare yourself for restaurants that specialize in everything from American to German. Looking for a place to splurge? Book a table at Bernie's Restaurant, and you're sure to impress. If you'd rather kick back in jeans and a tee-shirt, count on Unicoi State Park Restaurant, where the ambience is relaxed and the food always satisfies. Maybe you'd rather check out the Helen dining scene in person. If that's the case, head to districts like Helen, and scope out the possibilities. Count on fun, food and excitement at lunch places like Bernie's Restaurant, Safari Steakhouse, and more exotic eateries, like Hofbrauhaus Restaurant & Lounge.
---
Blue Ridge, Georgia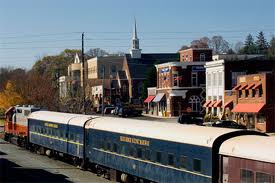 Georgia's Blue Ridge and Fannin County offer more dining experiences than ever, from gourmet to traditional Southern cuisine. There are some things you just have to eat when you come to the mountains, however, including local mountain trout, barbeque and Brunswick Stew, grits and homemade biscuits. Don't forget to try out fried apple pies, apple bread, apple butter and naturally, apple cider.
You'll find fine dining in Downtown Blue Ridge and on the banks of the Toccoa River at Toccoa Riverside Restaurant. Some of the finest food in the mountains can be found in Downtown Blue Ridge, where new gourmet restaurants like Harvest on Main, Christy Lee's Courtyard Grille and Blue Ridge Brewery add flavor to traditional favorite spots like Victorian House (now VH Blue Orleans Bistro) and Danielle's.
---
FOR RESERVATIONS AND
MORE INFORMATION CALL
706-896-9966
800-990-8869
Enota Mountain Retreat
1000 Highway 180
Hiawassee, GA 30546
706-896-9966 800-990-8869
| | |
| --- | --- |
| | Your contributions help Enota protect over 60 acres held in Trust for conservation. Enota is a service-based, charitable, educational, non-profit 501(c)3, volunteer organization. It is Enota's mission to conserve this sacred land for generations to come. |