ENOTA

North Georgia
Area Shopping
North Georgia Mountains between Helen, Hiawassee, Blairsville, Young Harris
Helen, Georgia
Everywhere you go, cities unfold with their own character, landmarks, ambience, people, and, yes, shopping. Art galleries, fashion boutiques, home decor shops, and bookstores are among the signature retailers. Helen shops have their own particular allure, too, which becomes evident when you browse the independent stores and style-setting havens. Popular gift shops include Damron's Gifts and Foxfire Gallery and Kitchen Shop. They've built their reputation on desirable merchandise and helpful staffs, and locals love the places for their excellence. You'll also find great shopping at Helen malls and shopping centers, like Cherrydale Point and Haywood Mall. Give them a shot when you're on the hunt for a perfect souvenir or gift!
---
Hiawassee, Georgia
Looking for something to remember your trip to Hiawassee and Young Harris? Towns County has a contemporary and diverse range of retailers to satisfy all your shopping desires.
Your Georgia mountain getaway would not be complete without a little "shopping time". Looking for a unique gift,... or perhaps a special outfit,... a curio or collectable,... or maybe something to remember your trip to Hiawassee and Young Harris? Towns County has a contemporary and diverse range of retailers to satisfy your every shopping desire.
---
Blue Ridge, Georgia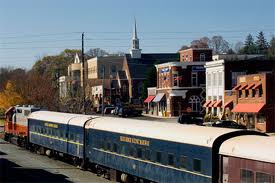 During the early 1900's, visitors journeyed to Blue Ridge by train to enjoy the health resort's pure mineral waters. Today, growing numbers of tourists are coming to historic Blue Ridge and McCaysville to shop in our specialty shops and galleries for fine furnishings, art, antiques and unique crafted items.

Artists are especially attracted to live and work in the Georgia mountains because the peace and quiet, misty mountains and clear starry nights provide time, tranquility and inspiration for creating wonderful art, from tradition art and craft to contemporary painting and sculpture. The Blue Ridge Mountains Arts Association has the goal of making Blue Ridge a Top Art Town in the U.S.
---
Blairsville, Georgia
Shopping is part of the fun of exploring Blairsville and Union County! As you would expect in these heritage-rich North Georgia Mountains, you'll find a treasure-trove of antiques, collectibles and specialty items such as quality European antiques from the 1860s through 1960s Danish modern from Denmark and Sweden. With an abundance of furniture stores in the county, some of which specialize in antiques and home accessories, you're bound to spot the perfect piece to accent that corner of the room. Each season, there's something new to explore in all of these stores.
There's also a bounty of gift shops in the area, where you'll find Blairsville and Union County souvenirs to take home to a friend. For fun, try on a pair of Western boots and kick up your heels, or pick up some little outfits for the kids. If you forgot to pack a swimsuit or a sweatshirt, you'll find plenty of each to choose from throughout Blairsville and Union County. There's a mountain of shopping fun to be found here in the North Georgia Mountains!
---
FOR RESERVATIONS AND
MORE INFORMATION CALL
706-896-9966
800-990-8869
Enota Mountain Retreat
1000 Highway 180
Hiawassee, GA 30546
706-896-9966 800-990-8869
| | |
| --- | --- |
| | Your contributions help Enota protect over 60 acres held in Trust for conservation. Enota is a service-based, charitable, educational, non-profit 501(c)3, volunteer organization. It is Enota's mission to conserve this sacred land for generations to come. |